Permanent Structural Formwork (PSF)
Verteka lift and stair cores, and walls are precision manufactured off-site and craned into position on site.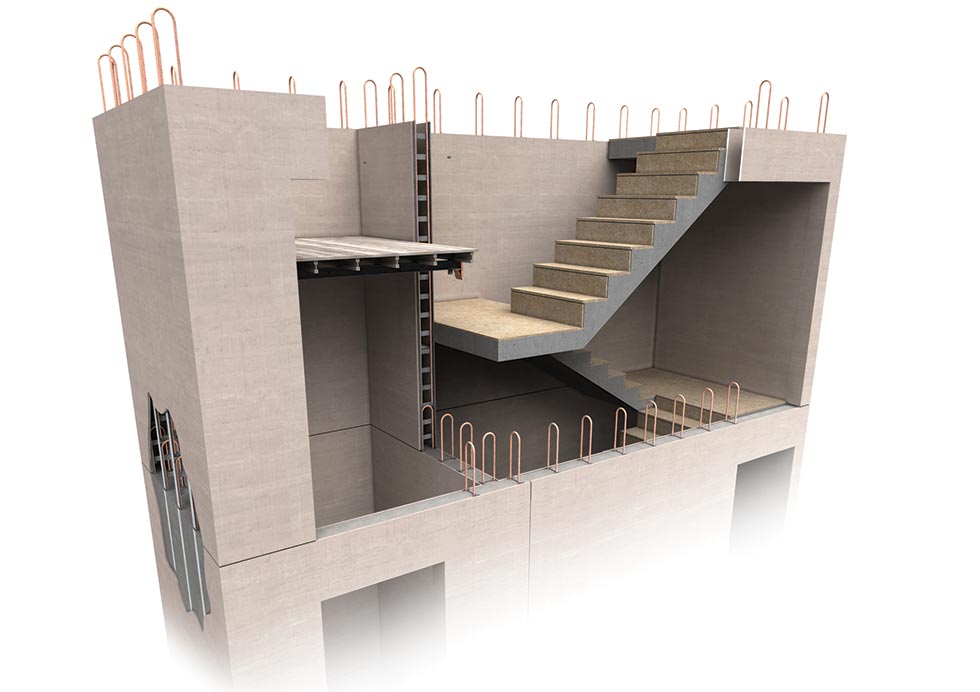 A distinguishing feature of PSF is the dual usage of the permanent face board. Initially, the cement fibre boards provide concrete containment for the construction. Within 24 hours of concrete filling, the PSF panel is capable of taking substantial structural load, relieving the concrete containment purpose of the cement fibre boards.
With such key structural walls installed within hours, turnaround time between floor slabs can be significantly decreased leading to overall project time and cost savings.
All steel fixing and shuttering undertaken in a Verteka factory
Panels manufactured to architectural dimensions and structural specification
Panels pre-formed into core modules where required
Just-in-Time site delivery
After concrete filling, Verteka PSF (Permanent Structural Formwork) is simultaneously ready for attachment of structural connections and in-service decorative finishes (when and where desired). The 'warm-to-the-touch' nature of the board allows a minimum of finishing. A simple paint system may be applied, or alternatively the board may be quickly clad via direct screwing or nailing directly to the board.
Suitable for:
Structural thickness up to 350 mm
Walls and cores in buildings up to 20 storeys (*)
Retaining Walls (in development)
Floor-to-Floor height up to 5000 mm (*)
Steel frame;  Concrete frame; and Pod structures
Providing entire lateral stability via PSF walls / cores (and columns)
(*) PSF can be manufactured in thicknesses up to 350 & 400 mm to cater for taller residential and commercial buildings. For floor-to-floor heights greater than 3200 mm, A 2 section rise will be specified.
Verteka PSF is characteristically similar to equivalent thickness RC (Reinforced Concrete) walls.  Following project  and design interface, Verteka wall panels are manufactured at dedicated premises. Panels are precision connected to form lift and stair footprint and in such a manner as to to maximise labour efficiency, crane capacity etc.
Verteka PSF's primary components:
Face-boards provide both concrete containment and a 'ready for decoration' finish
High strength vertical steel studs maintain separation of the boards
Horizontal reinforcement positioned laterally through studs
Self Compacting Concrete (SCC) is placed in-situ
Installation
Just-In-Time Delivery
Safe (ground based) access for attachment of lift beams
Walls and panels accurately positioned in minutes (!)
Immediately self stable
Insitu concrete fill at convenient time: non critical-path activity
In addition to design and manufacture, Verteka Limited undertake the corresponding installation ensuring the core scope of works remain simple.
Erection and concrete filling activities are undertaken by Verteka's installation team. Transport, concrete supply and any temporary craneage requirements can be organised by Verteka Limited as part of Verteka's standard scope of works.
Rapid construction of lift and stair cores
Construct one storey per day
Provides complete building stability
Costs similar to that of  traditional RC cores
Offsite manufactured for accurate on-site construction
Site Benefits
5 to 20 stories
JIT delivery: No site storage required
Minimal crane hook time: position and release (circa 1 hour)
Openings preformed: pre-boarded for safety
No propping: panels are self-locating and  self-stable in the temporary condition
No scaffolding: Installation entirely from crane and built-in platform
No carpenters or steel fixers required & … Erection and concrete fill by Verteka
Improved HSE: reduced work at height

Interface Benefits
Structural frame: steel inserts pre-installed to accept building frame, stairs etc
Decorative finish: immediately paint, plaster or attach cladding
E&M: first fix items such as conduits and lift components can be immediately fixed
Frame:   steel or concrete frame, LGS and  modular pods all interface with Verteka PSF
BS EN Compliance
Part B: 2 Hour fire rating
Part E: exceeds 415 kG/m2 requirement
Certification: in progress with UK test houses
Verteka PSF walls and blade columns are designed to offer similar structural properties to a 200 mm thick RC concrete elements.
Verteka PSF has been designed to offer standard structural criteria to which project designers can incorporate in building projects. These product specific properties have been confirmed at leading UK testing houses. In all other respects, PSF can be considered to be conventional reinforced concrete.
Where required, PSF may be upgraded to meet loading conditions exceeding the above standard capacities
Typical Verteka Design Process
Project team submit basic info (floor plan, elevation) for initial analysis of core /building
Verteka prepare initial project report
Project team submit detailed load case on core(s)
Verteka confirm loadings acceptable to PSF components (PSF revised as required for load areas outside standard capacity)
Verteka prepare detailed technical, programme and cost quote
Verteka / Project team liaison throughout project periodWarranty through Verteka Limited product liability insurances. Overall design responsibility for project remains with Client appointed Engineer.
Product Features
Compression: 3200 kN/m
Tension: 800 kN/m
Shear: 200 kN/m
M20 Insert: 40 kN (to carry stairs, structural beams, decking etc)
Fire (Part B): 2 hours
Acoustic (Part E): 450 Kg/m2 (exceeds Part E requirements)
Verteka PSF : 7th Storey Core Installation (Accelerated 10 X)
Jump Form style – Lift Core and Stair Core installed in under 60 minutes.
Verteka PSF; Stair core construction
Rapid site assembly of 5m x 2.5m stair core; construction time circa 30 minutes
Verteka PSF: Clapham Installation
Verteka PSF lift installation with Comments by Henley Homes Project Manager